Eloj Kréyol
This new issue explores the work of design duo dach&zephir (France/Guadeloupe). The duo interweaves a speculative, scenario driven approach (Florian Dach) with a craft-based, poetic approach (Dimitri Zephir): "In essence our intention is to question what makes history and identity. We approach history and cultural heritage as a raw material, a form of rich storytelling capable of producing a new language of matter, forms, and uses unique to each artifact." Building on Dimitri's master thesis Les mailles fertiles d'un Créole (The fertile mesh of a Creole, EnsAD, 2015), dach&zephir initiated Éloge Créole (Creole Praise) in 2015. Through this in situ research, they intend to unveil and activate the mechanisms that nourish creolisation processes – the act of transforming continuously without losing oneself – in the French Antilles archipelago.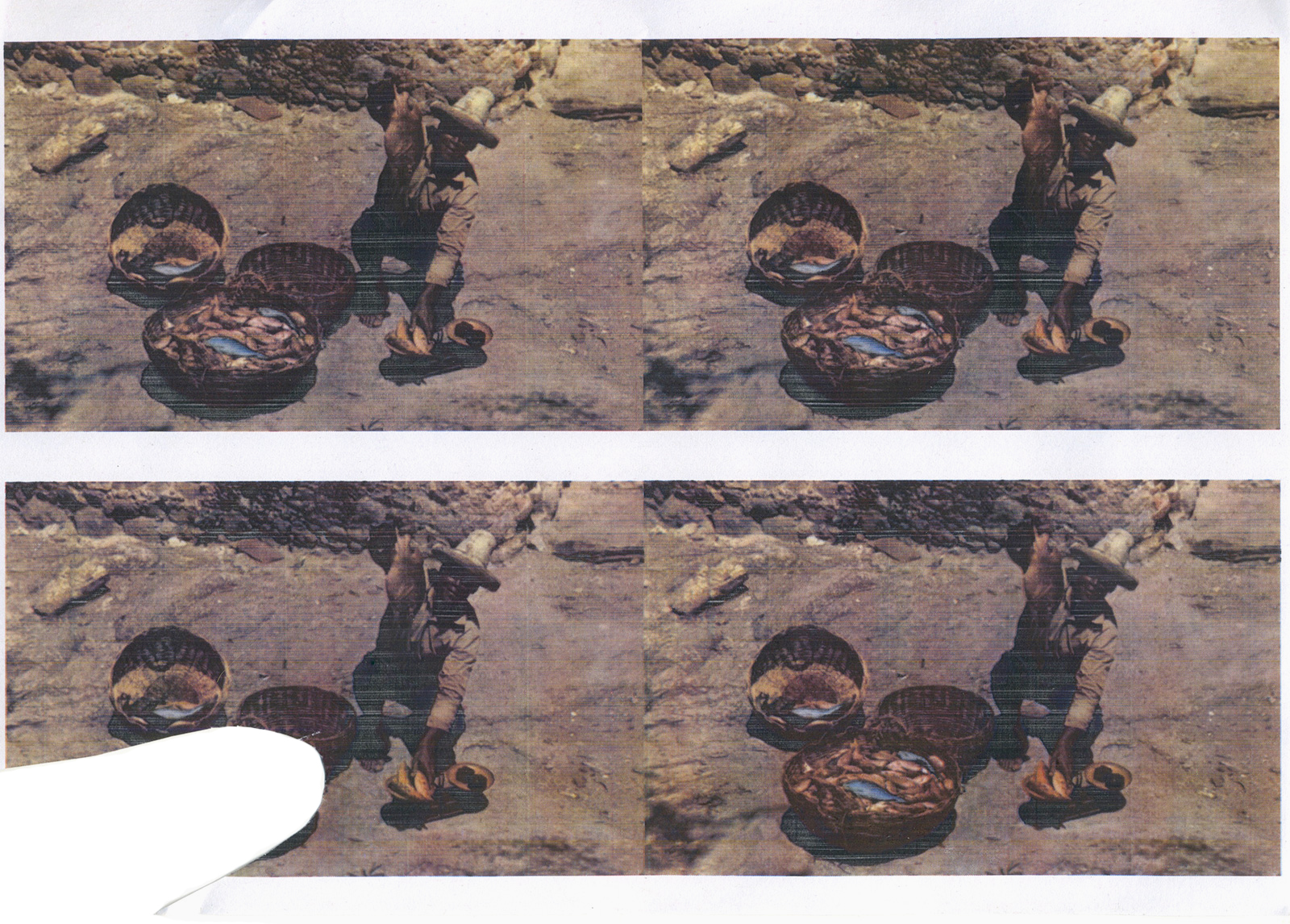 Paniers Poissons [trans. fish basket], scan for collage, dach&zephir, 2018. After: Pêcheur de la Caravelle (Trinité), Martinique, Éditions Félix Rose-Rosette, Fort-de-France, Collectivité Territoriale de Martinique, year unknown.
The five meanders that structure this book are invitations to ponder on the hidden biographies of archival images (Encounter between Dimitri Zephir, Florian Dach and X, edited by Sophie Krier); the enduring creolisation and alienation processes in Martiniquan society (Creole Voices by André Lucrèce); the material ingenuity of a water jar, a simple kitchen knife, and a basket (Mapping Histories by dach&zephir); the richness's and unknowns of a collaboration across cultures in the field of design (Design as Relationality, Aesthetics as Agency: on dach&zephir by Lucy Cotter); the circulation of aesthetic norms at the turn of the century (The Creole Ninfa by Thomas Golsenne); and our legacy to the upcoming generation (Nasyon A Ti Kréyol, Design as Transmission). Bon lekti! Wishing you a good read!
Florian Dach and Dimitri Zephir met in 2012 at École nationale supérieure des Arts Décoratifs (EnsAD), Paris, where they obtained their masters degree in Product Design with honors in 2016. Their diploma project "La figure de l'Autre" (The figure of the Other) was presented during "Révélations" at the Grand Palais in Paris, while "Éloge Créole"
 was featured at Operae independent design festival 2016 in Torino (Italy). In 2017 they were selected by Lidewij Edelkoort and the Carpenters workshop Gallery in London as one of the 15 emerging talents of European design with their work "La Gargoulette". In 2017 dach&zephir were awarded the "Création en cours" grant by the French Ministries of culture and education. Dach&zephir are part of Atelier Médicis and incubation lab Pépite PSL-Research University of Paris. www.dachzephir.com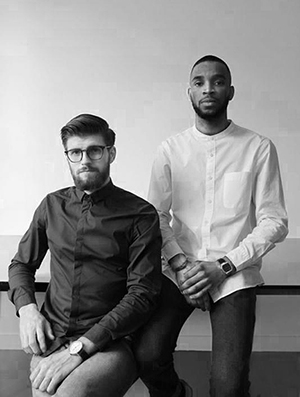 Dimitri Zephir et Florian Dach
Lucy Cotter is an independent writer and curator, currently based in Amsterdam and Portland, Oregon. She was curator of the Dutch pavilion at the 57th Venice Biennale 2017, presenting Cinema Olanda with artist Wendelien van Oldenborgh. Widely published in journals and catalogues of contemporary art, her recent publications include Reclaiming Artistic Research: First Thoughts, a guest edition of MaHKUscript Journal for Fine Art Research (2018), and the ficto-theoretical text "The Afterlife of the British Museum" for Noah Angell and Frances Gooding (Mousse, 2018). Alongside new curatorial projects, she is currently completing a book entitled Art Knowledge: Between the Known and the Unknown and working on a new collaborative research on the shifting shape of the art world and its possible future manifestations. www.lucycotter.org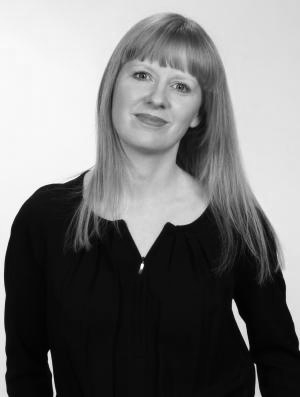 Lucy Cotter
Thomas Golsenne, Doctor in art history, wrote his thesis on Carlo Crivelli and ornaments in the period of the Quattrocento. He is a former resident of the Académie de France in Rome, and former professor at Beaux-Arts, Paris and Villa Arson, Nice. Golsenne is Chair in Art History and Modern Visual Culture at Université de Lille. He notably wrote La Performance des images [transl. The Performance of Images], (Bruxelles, Éd. Université de Bruxelles, 2010), and published various articles on Renaissance and contemporary art ornaments, on the anthropology of images, and on technique in the contemporary field. He directed the research unit Bricologie at Villa Arson (2013–2017) and recently published Essais de bricologie [transl. Essays on the science of mending] (co-directed with P. Ribault, 2016) as well as Carlo Crivelli et le matérialisme mystique du Quattrocento [transl. Carlo Crivelli and mystical materialism in the Quattrocento] (Rennes, 2017). https://pro.univ-lille.fr/thomas-golsenne/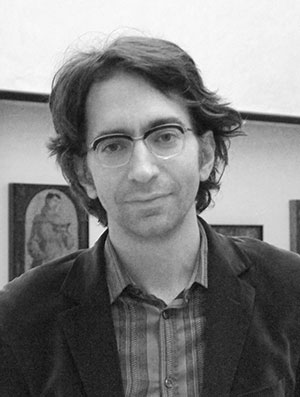 Thomas Golsenne
André Lucrèce is a writer, literary critic and sociologist. He was born in Fort-de-France (Martinique), and completed his secondary studies at Lycée Schoelcher and Lycée Rodin in Paris, before pursuing sociology, literary and linguistic studies in Bordeaux, Aix-en-Provence, and Paris. Doctor in Sociology at Université de Paris, André Lucrèce was a founding member of the magazines Archipelago and Carbet. He conceived the Prix Carbet des Caraïbes et des Amériques and is currently editor in chief of Les Cahiers du Patrimoine. André Lucrèce published many books including Souffrances et jouissances aux Antilles [transl. Sufferings and enjoyments in the Caribbean], (Éditions Gondwana, 2000), Conversations avec ceux de « Tropiques » [transl. Conversation with those from the tropics], (Hervé Chopin, 2003), an hommage to Aimé Césaire, as well as Martinique d'Antan [transl. Martinique in the Old Days], (HC Éditions, 2003/2007). Lucrèce is the author of many articles on poetry, theatre and painting; he produces and animates literary programmes on RFO (Radio France Outre-Mer, an overseas French radio station). André Lucrèce lives and works in Martinique where he pursues his research and réflexions on the myths, beliefs, traditional cultural practices of Caribbean societies and their influence on the modernity of these societies. www.potomitan.info/lucrece/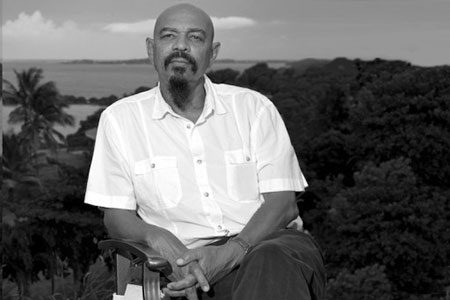 André Lucrèce